Fat Joe & Dre: Family Ties (2019)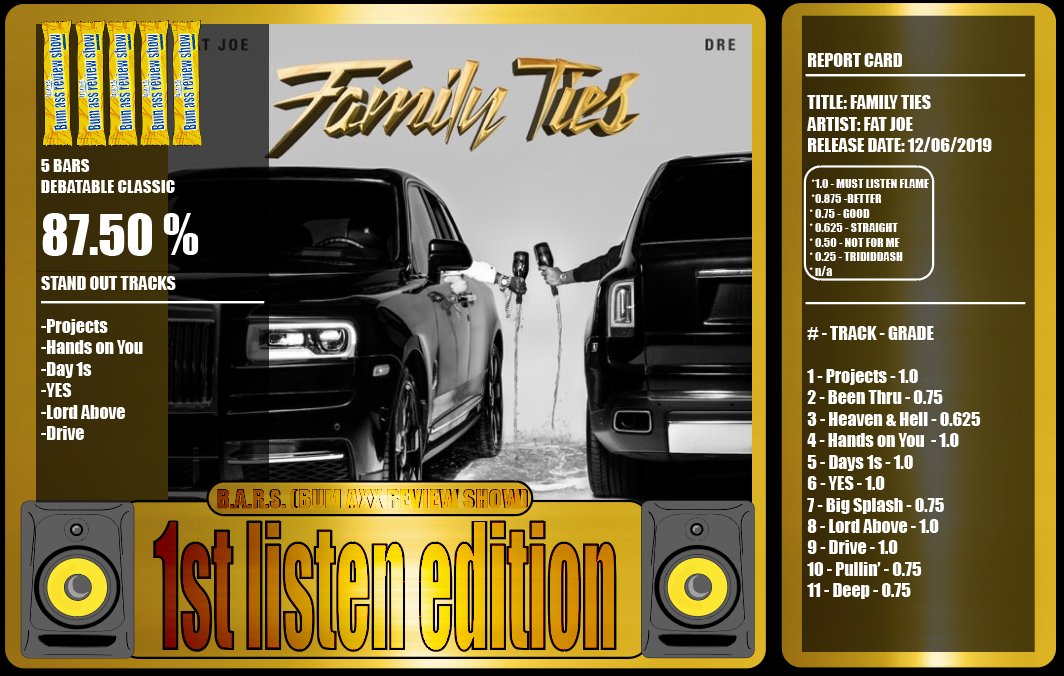 Fat Joe & Dre: Family Ties (2019)
It's the most unbiased and objective brand you can trust, man listen up. Tell me how did Fat Joe & Dre drop one of the best Hip-Hop albums of the year with Family Ties? How? I'll tell you how. With production that will consistently have your head nodding into your neck gets sore. I don't care if that's corny, that's the truth. From the beginning to the end. Projects, Hands on You, Day 1s, YES, Lord Above, and Drive are all BANGERS.
Lucky for them because lyrically, you won't find much substance just your customary boss talk and other braggadocios bars you'd come to expect these days. Sprinkle in a little illegal active to placate the streets and you already know what it is.
With that said, I thoroughly enjoyed this project for what it is. It's time to put some respect on Fat Joe's name. With hot features from Jeremih, Bryson Tiller, Cardi B, Remy Ma, TY Dolla $ign, Lil Wayne, Mary J. Blige and Eminem, you can play this album all the way through without skipping a track.
Eminem has been pretty lack luster lately, but he quickly reminds the listener, it doesn't take much for him to brush off that rust to reveal the ability to make an enjoyable verse we can all rap along to and still embarrass Nick Cannon.
This is a 5 BAR debatable classic with an
87.50%
score. Don't let your emotions fool you.
5 BAR debatable classic