Skyzoo & Pete Rock: Retropolitan (2019)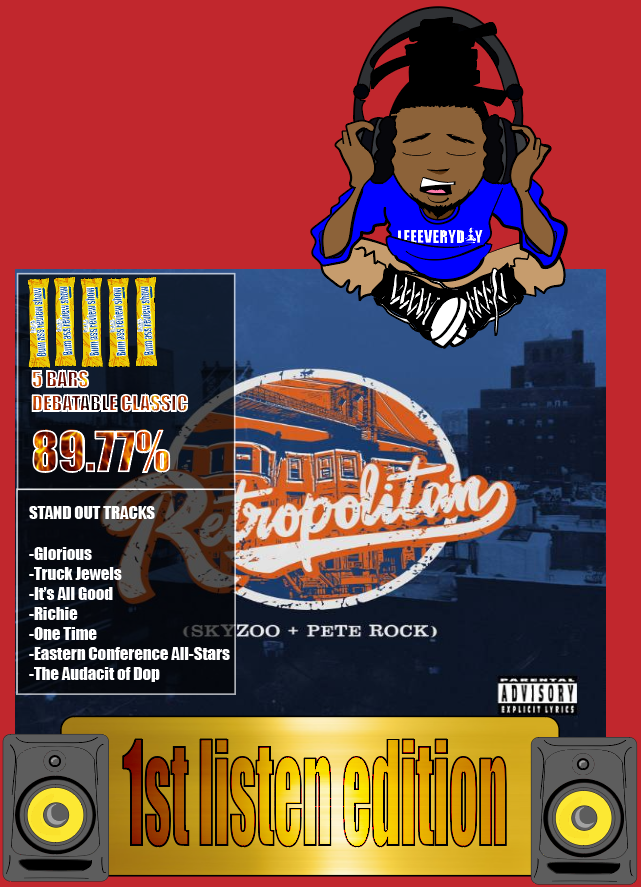 Skyzoo & Pete Rock: Retropolitan (2019)
It's the most unbiased and objective brand you can trust, man listen up. So you call yourself Hip-Hop and you haven't heard Retropolitan by Skyzoo and Pete Rock? If you have heard it, you know as well as I, that this is one of the best rap albums of the year.
Beats? Pete Rock makes sure you're not skipping anything. The soulful boom-bap screams Hip-Hop, and yells even louder that Hip-Hop ain't dead!
Skyzoo laces each one of these beautiful beats with thoughtful lyrics of substance. Those of introspection with social commentary. Take notes. Glorious, Truck Jewels, It's All Good, Richie, One Time, Eastern Conference All-Stars, The Audacity of Dope are all tracks that will have you occupied and enjoying some good music.
This is a 5 BAR debatable classic with an
89.77%
score.
5 BAR debatable classic